Macarons are a small round cake with a meringue-like consistency, made with egg white, sugar, and powdered almonds and consisting of two halves sandwiching a creamy filling.
The macaron is traditionally held to have been introduced in France by the Italian chef of queen Catherine de Medici during the Renaissance. Since the 19th century, a typical Parisian-style macaron is presented with a ganache, buttercream or jam filling sandwiched between two such cookies, akin to a sandwich cookie. The confection is characterized by a smooth squared top, a ruffled circumference—referred to as the "crown" or "foot" (or "pied")—and a flat base. It is mildly moist and easily melts in the mouth. Macarons can be found in a wide variety of flavours that range from traditional (raspberry, chocolate) to unusual (foie gras, matcha). Source: Wikipedia
Also read: Samosadilla Recipe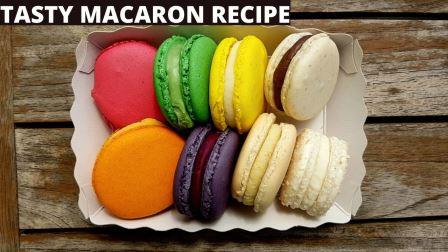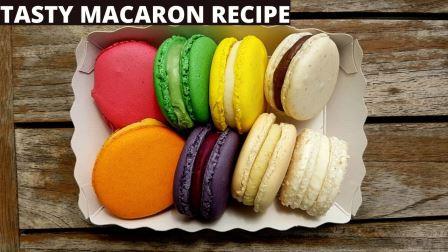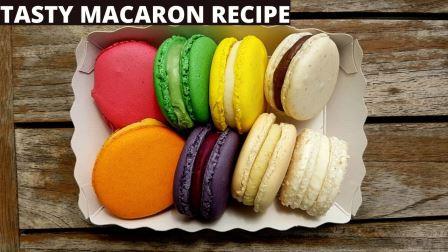 Macaron Recipe
Macaron is a French dessert which was created by an Italian Chef in France. It takes only an hour or two to make this. One can serve it to the guest on special occasions and even on normal days.
Amazon Affiliate Links in Red Colour.
Amazon এর লিংকগুলি লাল রঙে চিহ্নিত। ক্লিক করে Amazon থেকে কিনতে পারেন-কোনও অতিরিক্ত টাকা লাগবে না
Ingredients
Macarons
Powdered Sugar

105

gm

salt

½

teaspoon

egg white

2

piece

flour

,

finely grounded

50

gm

vanilla extract

¼

teaspoon

sugar

25

gm

food colour

,

pink

1

drop

gel food colour

,

yellow

1

drop

food colour

,

green

1

drop

food colour

,

brown

1

drop
Vanilla Buttercream
heavy cream

1½

tablespoon

sugar

120

gm

vanilla extract

½

tbsp

butter

,

unsalted

115

gm
Instructions
To make the macarons take a bowl and add powdered sugar, flour, ¼ teaspoon salt one by one. Then mix it well. Keep mixing until it becomes extra fine. Use a spatula to transfer the mixture into a large bowl.

Take another bowl and beat the 2 egg whites using a hand blender. Add ¼ teaspoon salt and gradually add the sugar. Keep beating until sniff peaks form. After it's fully done, even if you turn the bowl upside down, nothing should fall out.

Add the vanilla extract and beat it again until fully combined. This helps to remove the smell of egg.

Add the flour mixture in it and mix it well using a spatula. Gently fold it until fully combined. And try to make a ribbon shape by holding the spatula up.

Now distribute the batter in small bowls and add different food colours in different bowls. Whisk them well until fully combined. You can also use a hand blender for a better result. (If you have only 1 colour then add it in the main bowl and mix it well using a spatula or hand blender).

Take piping bags with round tip nozzles. Transfer the batter into them.

Take a baking tray. Place parchment paper on it and create small circles of 3 cm diameter using the piping bags. Make sure to keep at least 2 cm distance between them.

Tap the baking tray on the table or any flat surface to release the air bubbles. Keep them in room temperature for 30 – 45 minutes. (If you don't let them to be dried and set in room temperature, then the macarons can break and be chewy).

After that, preheat the oven to 300° F and bake the macarons for 15 minutes until it becomes fluffy and the feet are well risen. Make sure the macaron is not sticky anymore.

Transfer them in another tray or any wire rack. Let it set in room temperature.

To make the buttercream, take the butter and powdered sugar in a bowl and beat it well. Add the vanilla essence and slowly add the heavy cream and keep beating until fully combined. (You can also add some food colours in this and beat again for a colourful texture).

Then transfer it to the piping bag fitted with round nozzle.

Add a dollop of buttercream in one of the macaron shell and put another another macaron shell to make the sandwich. Repeat the same for the rest of macarons.

Keep them overnight in a airtight container.

Now it's ready to be served.
Nutrition
You may also like: Chilli Chicken Recipe
Macaron Recipe FAQs
Why are macarons so expensive?
Macarons are more expensive than the average sweet treat because of the costly ingredients and the time and expertise involved in making them. Almond flour and egg whites are the two main ingredients that make up a macaron. In relation to other flours, almond flour is several times more expensive.
Why are macarons so hard?
French macaroons are incredibly sensitive to moisture above everything. This is why some recipes call for "ageing egg whites" as when egg whites get old they loose some moisture.
What is the difference between a macaroon and a macaron?
Macarons and macaroons differ in their main ingredient, which for macarons is almond meal, and macaroons is shredded coconut.
Are Macarons kept in the fridge?
Macarons stay nice and fresh in the fridge or in the freezer when stored in air-tight containers. They can usually be stacked one on top of another in the container. … Shallow Tupperware containers usually made for pasta sheets and sandwiches are good for storing macarons.
Can Vegans eat macarons?
Standard macarons and macaroons are never vegan. For example, the standard recipe for both calls for egg white. While there are macaroons on the market that don't contain egg white, both contain a number of animal-derived ingredients besides egg, thus overall, neither one is vegan-friendly.
What flavor is the Purple Macaron?
Are Macarons crispy or soft?
A macaron (mack-a-rohn) is a french cookie made from almond flour, sugar and egg whites. It has a delicate crispy shell and a soft and chewy centre. A macaron is not very sweet and is often varied in flavours and colours.
Why are macarons better the next day?
Once the macarons are filled and you are about to think of eating them, just know; they are best kept in a container inside the fridge overnight. The end result is a more chewy and better-flavoured macaron.
Do macarons expire?
Macarons should be refrigerated for optimal taste and consumed within 3 days. After this period, it is important that you are aware that the macarons will last a maximum of 7 days. Do not leave them in an open container when using a refrigerator.
Can coconut macaroons go bad?
Once cooled, coconut macaroons should be stored in an airtight container. After you cook these, they keep 3 days at room temperature, and 5 days in the refrigerator.