Samosadilla (Samosa Quesadilla) is one of the famous Indian Recipe. Anyone can make it at home using only a few steps.
Mashup of samosas and quesadillas equals samosadilla! A super easy to make and healthier way to eat samosas. This version uses tortillas that are filled with samosa filling, chutneys, cheese and tortilla chips for some crunch.
In this recipe, you make the samosa filling same as you would normally, but skip the dough and deep-frying. Instead, you put the filling inside a flour tortilla and fry that in a tablespoon or two of oil.
Now, it's not as good as a real samosa, but it's still pretty outstanding. The filling is spicy and flavorful (and you can adjust the potato texture and spice level to your liking), and the tortilla takes on this flaky, crispy-chewy texture that's not far off from the genuine article.
Also read: Pav Bhaji Recipe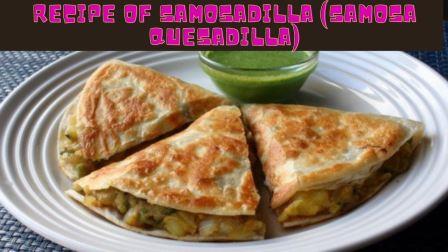 Recipe of Samosadilla (Samosa Quesadilla) in 30 Minutes
Samosadilla (Samosa Quesadilla) is one of the famous Indian Recipe. Anyone can make it at home using only a few steps.
Ingredients
1

pc

Potato

1

tbsp

olive oil

1.5

tbsp

Garam Masala

4

tbsp

Butter

Melted

1

pc

onion

1.5

tbsp

ginger paste

1

tbsp

salt

200

g

Green peas

½

tbsp

Turmeric Powder

50

g

Garlic paste

½

tbsp

Capsicum Powder

2

pc

Green Chilly

Parsley Leaves

1

tbsp

Cumin powder

½

tbsp

Coriander Powder

2

tbsp

Cilantro

1

tbsp

Lemon Juice
Instructions
At first, take the potatoes and cut them into small pieces. Add some salt and put the whole in a bowl of cold water. Stir well and keep it aside for 5 minutes. Then boil it straight for the next 15 minutes in medium flame until potatoes become soft and smooth. Drain the excess water using a strainer.

Pre-heat olive oil and butter in a pan over medium heat. Add chopped onions into it. And fry it for at least 5 minutes to make the onion birista. At this moment, combine all of the spices along with 1 teaspoon salt, cumin powder, coriander, paprika, garam masala into a small bowl to mix it up well. And fry it over a slow flame for 5-6 minutes.

Now add some chilly paste, ginger and garlic paste in the previously made onion birista with other spices. Cook and stir until the mixture is well combined, about 2 minutes. Add green peas. And cook it straight for the next 4-5 minutes. And keep it on low flame.

Now transfer the whole in the bowl of potatoes. Add a small part of cilantro and lemon juice. Mix with a spatula until it becomes smooth and mixed up well with the mashed potatoes. Add salt if needed. (Optional)

Now combine the onion paste, mint, cilantro, chilly paste, lime juice and yogurt in a blender to make a smooth texture. You can add some salts if needed (optional).

Put some of the fillings on one side of the Tortilla and fold it in half. Repeat the same with the remaining tortillas. Heat oil in a frying pan over medium heat. Cook each quesadilla until it becomes golden browned and crispy. You need to do it for 2 to 3 minutes per side. Transfer quesadilla onto a smooth plate and cut it into 1/3 portion. Now it's ready to be served. You can add some tomato sauce or pudina chutney to make this dish tastier.
Quick Recap: How To Make Samosadillas in Short?
Make samosa filling: Mix boiled potatoes, peas and spice it up.
Chutneys: samosas are traditionally served with both green chutney (cilantro based) and sweet chutney (tamarind based). Prepare according to your wish.
Put it all together: Heat a pan with a tortilla. Add chutneys, filling, cheese and tortillas for an optional crunch!
For the Cilantro Lime Chutney:
Mint leaves, finely chopped
Salt half tablespoon
Tortilla 4 to 6 piece or more if you need
Olive oil 1 or 2 tablespoon
Green chilly paste 1 tablespoon
Lemon juice 1 and a half spoon
Onions 100 gm, partly sliced and chopped
Yogurt half cup
Cilantro leaves ( according to taste)
FAQs
What is quesidilla?
A quesadilla is a heated tortilla with melted cheese inside. But in addition to cheese, you can put practically anything in a quesadilla. (Source)
What is Samosadilla?
When potato mixture is used instead of cheese in quesidilla, it is called samosadilla, since it resembles the structure of the popular Indian snacks Samosa.
How much calories are there in Samosadilla?
Per Serving: 433 calories; protein 11.9g; carbohydrates 70g; fat 13g; cholesterol 6.3mg; sodium 916.5mg.