Mango pudding is a very popular seasonal dessert in India and South Asia countries, where the pudding is eaten as traditional British food. There is very little variation between the regional mango pudding's preparation. The dessert is also found in Singapore, Malaysia, Thailand, Macau and is often served as dim sum in Chinese restaurants. The fresh variant is prepared by the restaurant or eatery and consists of agar or gelatin, mangoes, evaporated milk, and sugar. In addition, fresh fruit such as mango, strawberries, berries, and kiwifruit, are occasionally added as a garnish. Served and eaten refrigerator cold, mango pudding has a rich and creamy texture.
Also read: Caramel Pudding recipe
Some Chinese restaurants make the mango pudding in fish shape because goldfish or koi express good luck in Chinese culture.
On the other hand, factory-made mango pudding does not contain fresh mangoes and instead, consists of mango essence and either gelatin or agar.
Also Read: Chilli Chicken Recipe
How do mango puddings taste like?
Mango puddings share a set of criteria – the texture of the just-set gelatin, light as a feather, full of mango flavor, and melt-in-the-mouth.
I hope this article is useful for you if you are planning to make a good quality Indian style Mango Pudding.
Recipe of Mango Puddings
Let's dive in and take a look at the step-by-step instruction.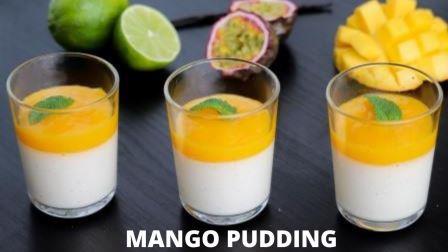 Mango Pudding
One of the best dessert to try in this summer season.
Ingredients
Cream Layer
1½

cup

full cream milk

½

cup

sugar

1

cup

cream

2

teaspoon

gelatin

1

teaspoon

vanilla essence
Instructions
Take a saucepan and pour the milk in it. Add 1 teaspoon gelatin and mix it well on medium flame for 5-10 minutes. Then add one cup cream and powder sugar for a better taste. Add 1 teaspoon vanilla essence and keep it on low flame for sometime.

After it cools down, pour it equally in 4 glasses and refrigerate for 3-4 hours to let it set in the glasses.

In another saucepan take the water and 1 teaspoon gelatin and mix it well until gelatin dissolves in water. On low flame add the mango puree in gelatin water. Whisk it well until gelatin is fully mixed with the mango puree. Add some sugar if needed (depends on the taste of the mango).

Take the glasses and pour the mango mixture in them. Cool it down for 2 hours.

Yummy mango pudding is ready to be served. Garnish with some chopped mango or mint leaves.
Video
Please let me know in the comments if you liked this recipe. Also, tell me if you want any particular recipe. Share with your friends and family.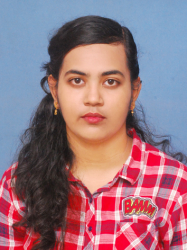 Latest posts by Tuhinaa Dey
(see all)