My friends from other states may get offended but there is a joke like if you want to eat the best biryani available, travel to the nearest airport and come to Kolkata.
Jokes apart, the name of Biryani itself is an epic and tells so many stories of different regions, cultures, and cuisines. In India, biryani is one of the most beloved and popular recipes. In most of the states in India, biryani is mostly prepared according to the different royal cuisine styles like Mughals, Nawabs, and Nizams.
Biryani is one of the most versatile rice dishes which I have ever seen in my life. Nowadays it can get prepared in a plethora of ways using different key ingredients like mutton, chicken, beef, pork, egg, fish, prawn, paneer, mixed vegetables, potato, mushroom, baby corn, cauliflower, and many more.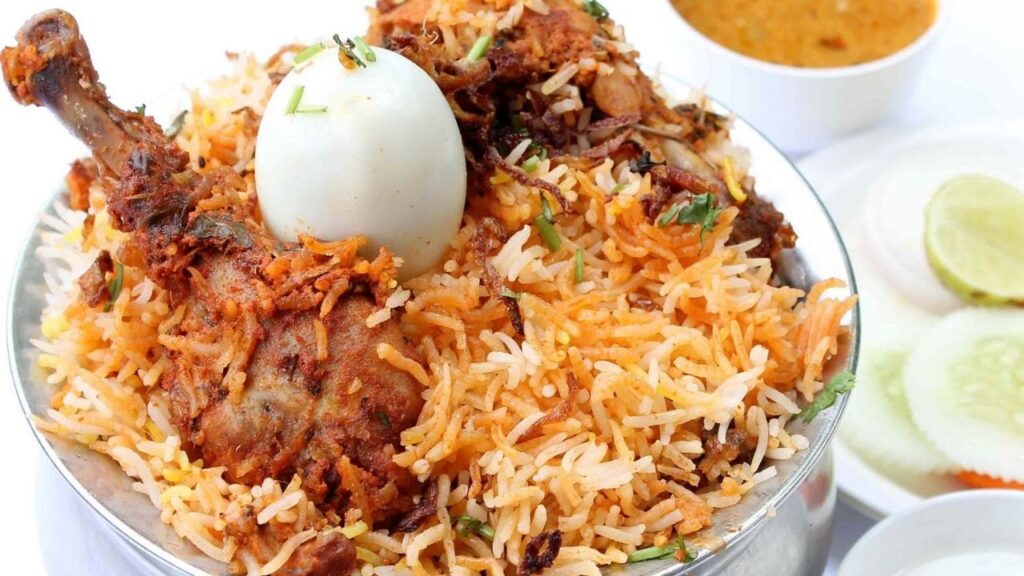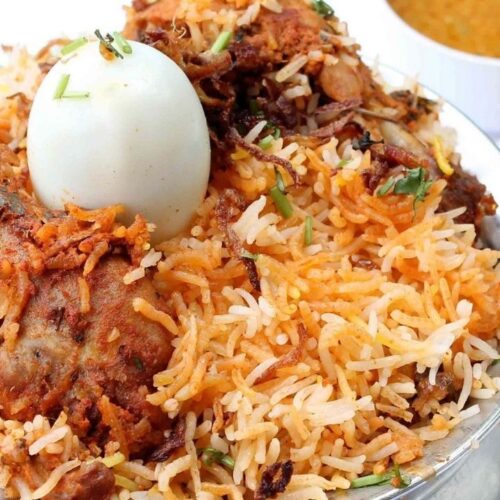 Chicken Biryani Recipe-Bengali Style
Chicken biryani recipe-Kolkata (Bengali) style chicken biriyani recipe
Ingredients
1

Kg

Basmati rice

1

Kg

Chicken

4

pcs

potatoes

3

pcs

onion

2

tbsp

garlic paste

2

tbsp

ginger paste

½

pc

lemon

juice

½

cup

curd

1

tbsp

Kashmiri chilli powder

4

tbsp

biryani masala

3-4

drops

rose essence

1

tbsp

kewra water

10

drops

mitha attar

optional

1

pinch

saffron strand

4

tbsp

milk

4-5

pcs

Bay leaves

tej patta

3

inch

cinnamon stick

10

pcs

cloves

10

pcs

Green cardamom or elaichi

1

tbsp

turmeric powder

10

tbsp

ghee

½

cup

refined oil

salt

as required

5-6

pcs

Hard-boiled eggs

1

tbsp

shah jeera

1

tbsp

white peppercorn

20

pcs

green cardamom

2

Mace or javitri

2

cinnamon stick

½

nutmeg

1

tbsp

kebab chini or all spice
Instructions
Calcutta Style Chicken Biryani Recipe
marinate the chicken pieces with curd, red chilli powder, turmeric and salt for 45 minutes to 1 hour.

cook the rice along with black cardamom and bay leaves. The rice needs to be boiled till 50% done.

Drain away the water and set aside the rice for later use.

Dry roast the rest of the whole spices namely, peppercorns, cloves, green cardamom and cinnamon for 30 seconds or till fragrant. Let it cool and then grind it into a fine powder in a mixer grinder.

Heat 2 tablespoons of ghee in a deep & heavy bottomed pan. Add chopped onions and sauté till soft and lightly brown

Mash the ginger, garlic, and green chillies together using a mortar & pestle.

Add the ginger-garlic-chilli paste to the onions once they are lightly browned. Sauté for 2-3 minutes.

Add red chilli powder, turmeric powder and sauté further for a minute.

Add the marinated chicken to the above, and mix well till the chicken is well-covered with spices. Cover and cook for 10-12 minutes on low flame. Add a little water if required.

While the chicken is cooking, chop the potatoes into four pieces and fry them till crisp and cooked.

Now take a heavy bottomed non-stick Biryani pot or earthen pot and grease it with ghee. Spread one layer of rice and top it with a layer of chicken gravy and 2 potatoes.

Repeat this three times ending with a layer of rice. Heat the rest of the ghee and pour it on the top layer.

Seal the mouth of the pot with wheat flour dough to tighten the lid if using earthen pot and place a heavy weight like mortar on top of it. Cook this on low heat for 10 to 15 minutes and let it stand for another 30 minutes before opening.

Serve Calcutta Style Chicken Biryani Recipe hot with Burani raita or Tomato Onion & Cucumber raita and non-veg gravy like Laal Maas or Creamy Butter Chicken.
Saffron milk (optional)
Take warm milk in a bowl, add a pinch of saffron strands or kesar or zaffran and let it soak for 15-20 minutes.

After 15 minutes, when saffron strands get soft and almost leave its color in milk, then first use your fingertips to rub the strands to release more color from it. Even you may use a little saffron color if the strands don't leave a strong strain into the milk.

Then add kewra or Keora water and 3 drops of rose essence one by one.

Lastly add, 8-9 drops of mithaattar (not more than that) to the milk, and mix it well. Keep it aside for using it later.
List of special items and ingredients required for chicken biryani recipe
(These are affiliate links to Amazon. We may earn revenue for purchases at no extra cost to you!)
Kolkata biryani FAQs
What is special in Kolkata biryani?
Kolkata Biryani is exceptionally light, low on essence and color, and mildly spiced
Why potato is added in Kolkata biryani?
The historical reason why they put potatoes in the biryani was that it was less expensive than meat and also because it provides a nice texture- so the main reason was the cost aspect of things. Now it is all about taste.
What is the difference between Hyderabadi biryani and Kolkata biryani?
The meat in a Hyderabadi biryani is cooked in such a way that the spices get infused deep, whereas the Kolkata biryani has the murgh musallam or murgh chaap which is basically a blander version of tenderly cooked meat.
What is dum biryani?
Dum cooking is a way of slow cooking.
How do you keep biryani from sticking?
To avoid the biryani from sticking to the bottom of the serving dish, place sliced tomatoes as the bottom layer, and then top with biryani. When adding saffron, soak in a small quantity of hot water for about 10-15 minutes.