One of the most popular fish curry recipes is easy pomfret curry from the coastal regions of India. You will love our spicy pomfret curry or paplet/pamphlet curry recipe as it's known locally
Pomfret curry is a delicious, well-balanced dish. Kashmiri chillies impart a wonderful red colour and a gentle heat but are not overpowering or excessively hot. Tamarind gives a tangy and sour flavour which is nicely balanced by the sweetness of the coconut.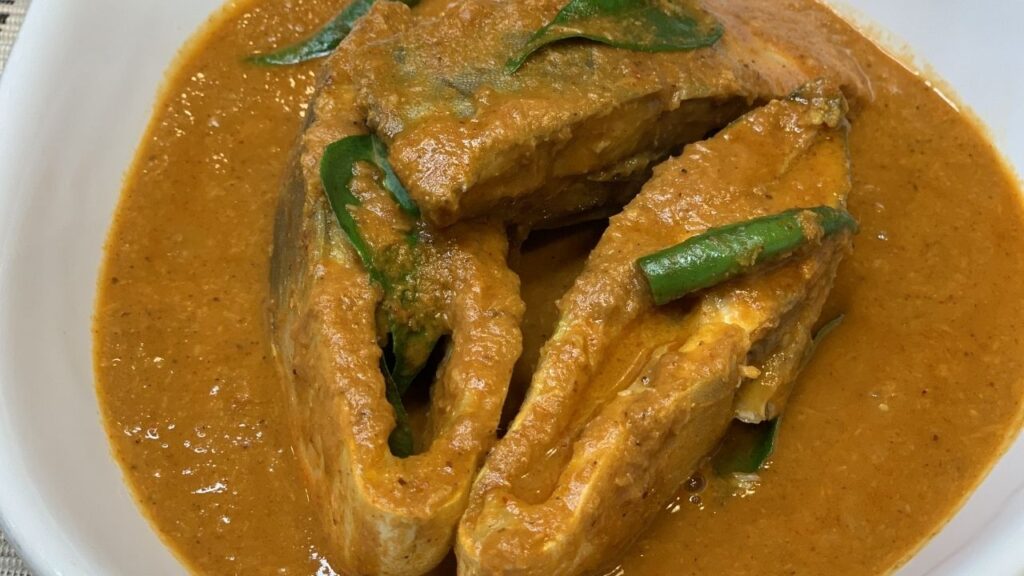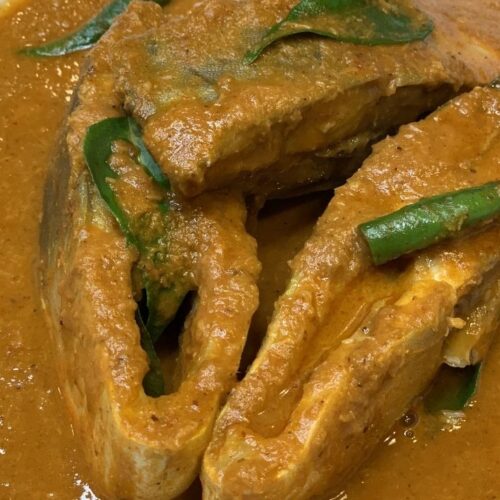 Pomfret curry recipe
A finger licking yummy pomfret fish curry recipe
Ingredients
Marination
1

kg

Pomfret

sliced

½

tbsp

turmeric

½

tbsp

salt
For the paste
10-12

pcs

dried red chillies

2

pcs

green chillies

12-15

cloves

garlic

1

inch

ginger

½

tbsp

black peppercorns

½

tbsp

cumin

jeera

2

pcs

onion

cut

½

tbsp

fenugreek seeds

methi 

2

tbsp

coriander seeds

1

pc

tamarind ball
For tempering
1

tbsp

oil

12-15

pcs

curry leaves
Instructions
Rub pomfret with 1 teaspoon turmeric and a pinch of salt.

Mix remaining 1 teaspoon turmeric powder, red chile powder, and 2 teaspoons water in a small bowl to make a paste.

Combine 2 green chile peppers, tomato, mustard seeds, and salt in a food processor; grind into a paste. Thin paste with water if it appears too thick.

Heat oil in a large skillet over medium heat. Add fish; pan-fry until golden brown, 3 to 4 minutes per side. Transfer fish to a plate. Add remaining 2 green chile peppers and onion seeds; cook and stir until chile peppers darken, 1 to 2 minutes.

Pour turmeric paste into the skillet; cook and stir until mixture looks dry, about 1 minute. Pour in chile pepper paste; cook and stir until dry, about 1 minute. Pour in enough water to cover; bring to a simmer. Return fish to the skillet and continue simmering, covered, until fish flakes easily with a fork, about 6 minutes.
List of ingredients and equipments for Pomfret Curry Recipe
(These are affiliate links to Amazon. We may earn revenue for purchases at no extra cost to you!)
Also read: Pomfret fry recipe
For our pomfret fish curry recipe, we prefer a thicker curry, but you can adjust the consistency of the gravy to suit your taste. Also, adjust the salt and spices according to your preference.
Why pomfret fish is popular?
Pomfret fish has few bones and white flesh that is delicious. It can be enjoyed by children and older family members as well.
Things to keep in mind when making Pomfret Fish Curry
Byadagi chillies are used for their bright colour and low level of pungency. Guntur red chillies are used for their spice. You can also use Kashmiri chillies if available.
Soaking a ball of tamarind may seem tedious, but if you want the right flavour profile when it comes to this Pomfret fish curry, you're going to have to do it. Why? Because, while tamarind paste is easy to squeeze into your curry, it doesn't provide the right level of sourness required to balance the gravy.
Pomfret is a favourite among seafood lovers due to its distinct flavour. If it isn't fresh, the taste of your gravy and the meal itself won't be as enjoyable as you'd like. So, make sure the pomfret you're buying is fresh.
FAQs
How to fry pomfret without sticking to the pan?
First heat the pan until release smoke, then add the oil to the pan again heat the oil until smokes come out. Then only, add the fish into the pan. After frying for 3-4 mins turn over the fish and fry it from another side. Must fry the fish in medium flame as the high flame can make the fish hard. This is the common method of frying fish in Bengali cuisine.