Crispy Pomfret Fry is a perfect side dish for your everyday meals.
Pomfret Fry is a delicious fish fry recipe where the fish is marinated with a spicy paste made with a set of simple spices.
Make sure you make cuts in the fish before applying the paste, as the masala penetrates better inside the fish, so it's highly recommended.
Also read: Fish fry recipe for any fish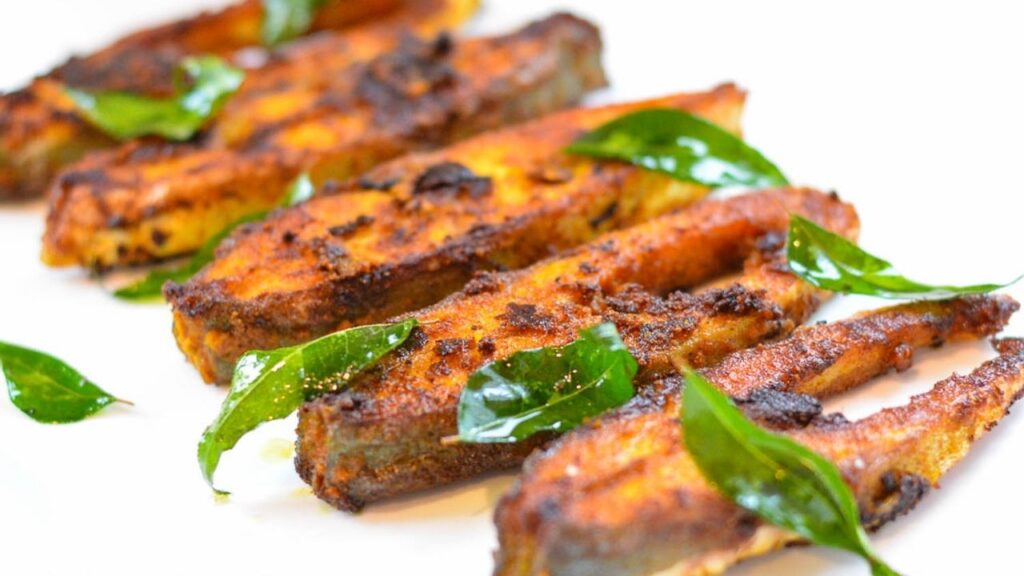 List of ingredients and equipments for Pomfret Fry Recipe
(These are affiliate links to Amazon. We may earn revenue for purchases at no extra cost to you!)
Kashmiri Red Chillies are used as it gives the paste a beautiful red color without making it too spicy. The paste gets its hint of subtle heat from black pepper powder and garam masala powder.
The paste is then applied to the fish, and fried in the hot oil until the outer layer becomes brown in color. This crispy on the outside and so from the inside fish can also be served as a starter to your weekend meals.
There are so many more versions of pomfret fry that you can try – Tandoori, Marathi, Bengali, Goan, Malvani, Konkani, Mangalorean, Maharashtrian, South Indian, etc. I have mentioned some of them below, which I make often at home.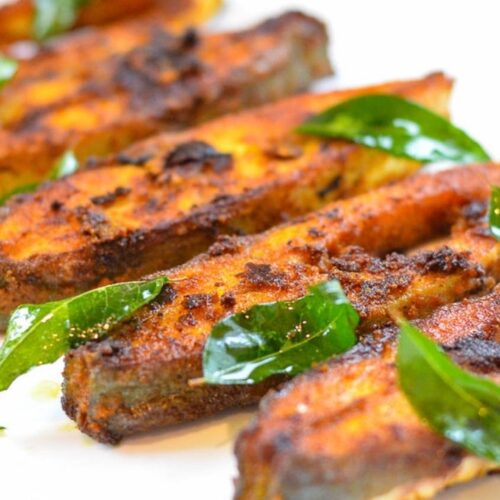 Pomfret Fry Recipe
Ingredients
4

pcs

Pomfret fish

depending on number of people

½

tbsp

salt

1

tbsp

Besan

2

tbsp

Coriander Powder

½

tbsp

Turmeric Powder

2

tbsp

Kashmiri Red Chilli Powder

½

tbsp

Cumin Powder

½

tbsp

Garam Masala Powder

½

tbsp

Black Pepper Powder

1

tbsp

Lemon Juice

3

cm

Ginger

3

cloves

Garlic
Instructions
Grind all the ingredients listed under masala to a smooth paste in a small mixie adding half a cup of water. Make a really smooth paste. Set aside.

Wash and clean the Pomfret fish and make cuts (gashes) on both sides of the skin. Apply the masala paste on the fish making sure to push the masala inside the gashes. Let it marinate for 20 minutes.

Heat vegetable oil in a non stick pan until really hot. When the oil is hot, gently place the Pomfret and fry for 1.5 – 2 minutes on one side. After 1.5 – 2 minutes, carefully flip the fish and cook on the other side for another 1.5 – 2 minutes.

Remove from oil and drain on a paper towel. Squeeze some lemon juice on the fish and serve hot with some sliced onions.
What is Pomfret fish?
Pomfrets are perciform fishes belonging to the family Bramidae. The family currently includes 20 species across seven genera.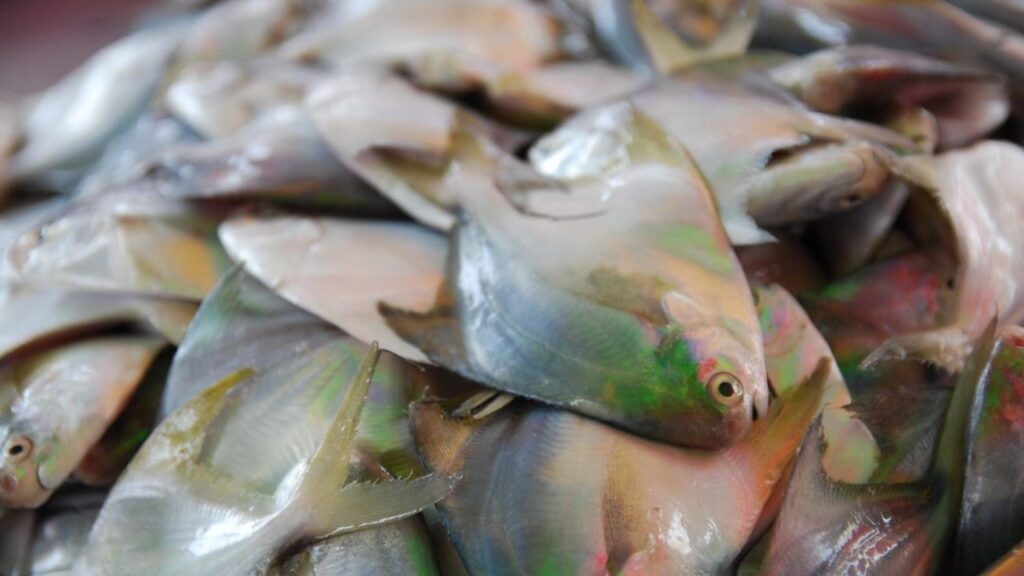 FAQ
Is pomfret a healthy fish?
Pomfret has a light texture and sweet, rich flavor. … A useful brain food, the pomfret is good for eyesight and healthy hair and skin. Fish is a very good source of protein, and food capable of providing almost 15 percent of our daily value for omega 3 fatty acids in one 4 ounce serving.
Can diabetics eat Pomfret fish?
Yes, in fact, they are good for health.
Price of pomfret price
Pomfret costs around Rs. 700-800 per kg.