Chilli fish- a spicy, tangy, and delicious Indo-fusion dish is an appetizer that is very famous in the Indian subcontinent. Chili fish serves as a perfect appetizer with hot and tantalizing flavors. It is incredibly easy to cook, even for newbies. Chilli Fish is one of the most famous fish recipes.
Also read: Fish fry recipe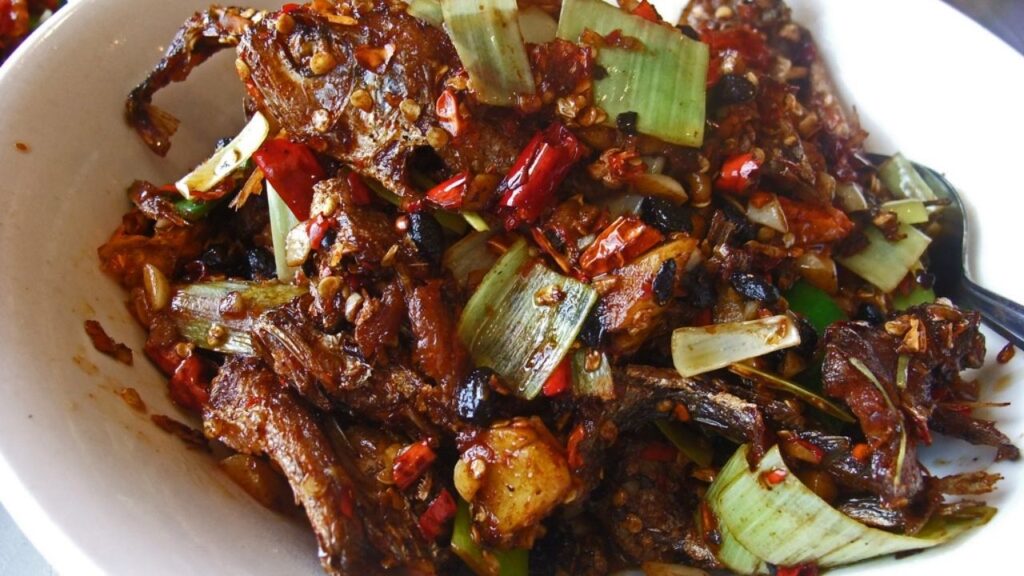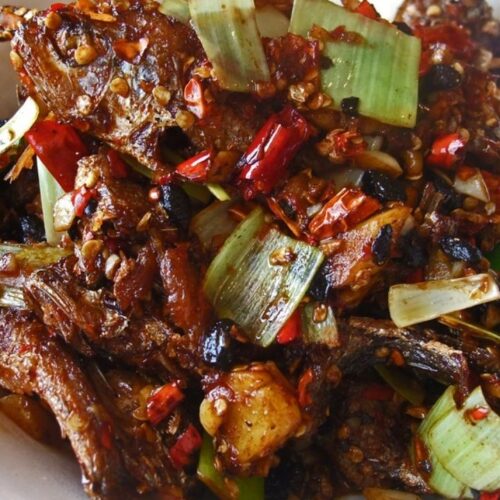 Chilli Fish Recipe
Chilli Fish Recipe-Fish Manchurian
Ingredients
500

gram

Vetki fish pieces

1

tbsp

Vinegar

2

tbsp

Salt

1

tbsp

red chilli powder

2

tbsp

ginger garlic paste

2

tbsp

soya sauce

3

tbsp

tomato sauce

2

tbsp

red chilli sauce

4

tbsp

corn flour

2

pc

egg

oil

as needed to fry

3

tbsp

oil to cook

2

pc

onion

sliced

2

pc

tomato

sliced

1

tbsp

red chilli flakes

2

tbsp

Chopped green chillies

soaked in vinegar

2

tbsp

Chinese seasoning

1

tbsp

chopped ginger garlic

1

pc

capsicum

sliced

1

cup

chopped spring onion
Instructions
Mix all ingredients listed under marinade well. Add the fish and marinate for about 30 minutes. Coat the marinated fish in cornflour. Deep fry the fish until golden brown. Drain and set aside.

Heat oil in a pan, add garlic, onions, capsicum, chillies and sauté for 2 mins. Add in the tomatoes and mix well. Then add the green chilli sauce, soy sauce, vinegar, ketchup along with red chilli powder, salt and sugar. Stir thoroughly until everything is mixed well. Add water and bring it to a boil.

Once the mixture boils, add the fried fish and black pepper powder. Stir well. Do not overcook it, as the fish will harden.

Garnish with chopped spring onion leaves. Serve hot as a starter with Noodles or Soup.
List of ingredients and equipments for Chilli Fish Recipe
(These are affiliate links to Amazon. We may earn revenue for purchases at no extra cost to you!)
It is immensely popular in India and one of the most demanding non-veg starters in Indochinese restaurants. In this preparation, marinated fish pieces are fried till crispy and tossed in spicy sweet and sour sauce with spring onion, garlic, onion, and capsicum chunks. It is a very simple and quick recipe which makes it a perfect appetizer for any party or get-together. It can be relished simply as an appetizer or as a side with Fried Rice or Noodles.
Read: Pomfret fish fry recipe
Chilli fish recipe is a flavored mildly sweet, tangy, and spicy recipe. It is the perfect mix of crispy fried marinated fish pieces with a combination of sauces. The fleshy and juicy flavored fish pieces with a crispy coating and spicy sauces in the chili fish is a real treat to any non-vegetarian who is fond of fish recipes.
FAQs
What Kind Of Fish Is Best For Chilli Fish?
Chilli fish as the name suggests is spicy in nature. Seawater fish is a great choice to cook with as it compliments the hot spices and elevates the flavor of your dish.
What Vegetables Can You Add To Your Chilli Fish?
Add vegetables that will keep the flavor balanced. You could add chopped spring onions, diced capsicums, basil, and even a little bit of cabbage.
What Kind Of Garnishing Can You Add To Your Chilli Fish?
Finely chopped coriander or sesame seeds are a delicious garnish for chili fish. Squeeze a little bit of lime onto the dish just before serving. If your appetizer is slightly dry, serve it with a slightly thick mint dip. It is a delicious combination.