Fish fry is an extremely delicious, mouthwatering, and mild spiced recipe. Fish is fried in many parts of the world, and fried fish is an important food in many cuisines because fish contains a low-fat high-quality protein. Fish is filled with omega-3 fatty acids and vitamins such as D and B2 (riboflavin).
Fish is rich in calcium and phosphorus and a great source of minerals. The best part is it works as a side or even as a starter, you can also use small fish fillet and deep fry or shallow fry to make it as finger food, a great choice for party or potluck or just do as I did and still use it as snack or starter or as a side the choice is yours.
Also read: Chilli fish recipe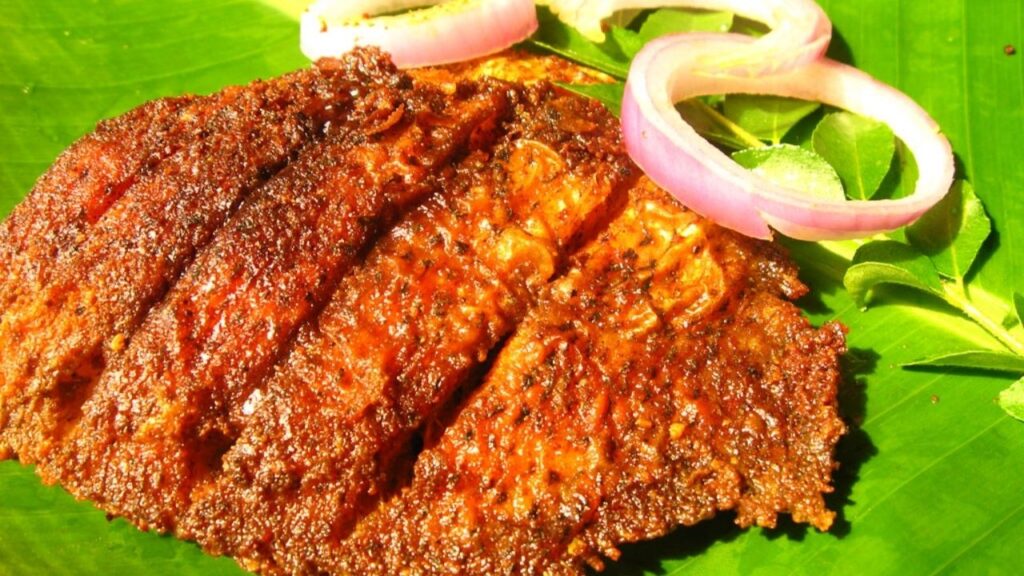 List of ingredients and equipments Fish Fry Recipe
(These are affiliate links to Amazon. We may earn revenue for purchases at no extra cost to you!)
The fish fry technique used in this recipe is good for any fish, especially Vetki fish fry.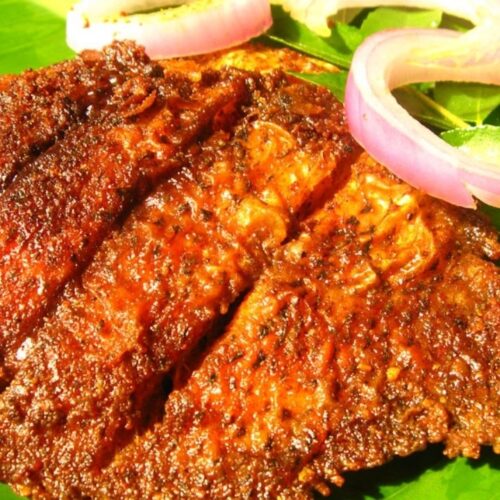 Delicious Fish Fry Recipe (Indian Style)
Prepare awesome fish fry at home
Equipment
1 mixing bowl

1 Frying Pan
Ingredients
500

gram

Fish

2

tbsp

Oil

1

tbsp

ginger garlic paste

3

tbsp

lemon juice

1

tbsp

salt

½

tbsp

turmeric powder

1

tbsp

garam masala

½

tbsp

coriander powder

optional

½

tbsp

red chilli powder

2

tbsp

rice flour

2

tbsp

corn flour

or, besan
Instructions
In a mixing bowl, add red chilli, turmeric powder, coriander powder, lime juice and required salt. Add a little water to make it paste like.

Add the fish and mix well.

Coat the masala on all sides of the fish and marinate for at least 30 mins.

Heat oil in a frying pan or dosa tawa and fry the fish until the fish turns dark brown in colour.
Get the best out of your fish fry
Marinade: For this recipe, you can marinade for just 5 mins or simple overnight marination also works well.
For overnight marination, use a glass container or recommended freezer-safe container. Cover the fish and refrigerate.
Oil: I have used vegetable oil in this recipe. You may use sesame oil, gingerly oil, or coconut oil. Every oil has a distinct flavor.
Fish: Use white thick fleshed fish for best results.
Read more about fish fry on Wikipedia.
FAQs
Which fish is best for fry?
Vetki (Barramundi), Tilapia, Cod, Halibut, and Bass fish are perfect for fish fry
Is fried fish good for your health?
Frying can increase the amount of fat in your fish and negatively affect its ratio of omega-3 to omega-6 fatty acids. If you're frying, pan-fry rather than deep-fry your fish, and use a healthy oil like olive oil
Is it better to fry fish in cornmeal or flour?
Both the cornmeal and flour came out perfect although the cornmeal tended to be more uniformly golden across the fillet
What flour is best for frying fish?
Corn flour or wheat flour
Are air fryers good for fish frying?
Air fryers are great. The fish cooks quickly and the breaded coating will crisp up just like fish that was made in a deep fryer.