As an appetizer or starter, Chilli chicken is a very popular and well-known dish of Indo-Chinese/Hakka Chinese origin. In India, this may include a variety of dry chicken preparations. Though mainly boneless chicken is used in this dish, some people also use bone-in chicken too.
Chilli chicken comes in several variations with differences in spices and seasoning, as well as its sauce" and dry variants with the difference in their quantity of sauce or gravy. The South Asian contributions of this dish are in the spices used, while the Hakka contributions include the sweet and savoury flavours along with the Chinese cooking techniques used in its preparation.
Read: Fish fry recipe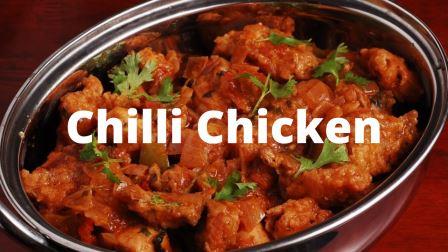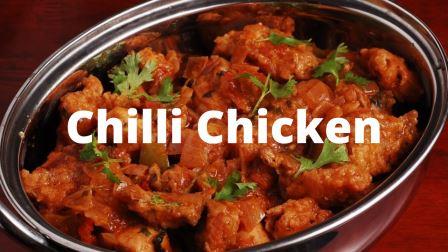 Also, read- Veg Momo Recipe
How to Make Chilli Chicken at Home?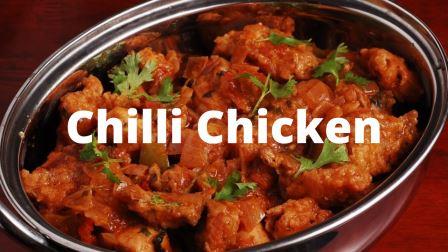 Chilli Chicken Recipe
Here we have discussed about how to make tasty chilli chicken at home
Ingredients
Main Ingredients
500

gm

Chicken

boneless

2

egg whites

½

teaspoon

pepper powder

5

tablespoon

corn flour

4

tablespoon

Flour

½

teaspoon

red chili paste/powder

¼

teaspoon

salt

as per need

3

teaspoon

red chili sause

3

teaspoon

soya sause
Seasoning Ingredients
2

tablespoon

Sugar

4

tablespoon

Tomato sause

sweet

2

tablespoon

soya sause

4

tablespoon

red chili sause

for flavor

1

teaspoon

red chili powder or paprika

2

teaspoon

vinegar

5

tablespoon

water

½

teaspoon

pepper powder
Vegetables
2

medium

onions

sliced

2

tablespoon

garlic

finely chopped

5

tablespoon

spring onion

for garnishing

1

cup

bell pepper (red and green)

cubed

3

tablespoon

oil

4

pieces

green chilies

deseeded
Instructions
Clean the boneless chicken with water and cut it into small pieces.

Transfer it to a clean bowl and the sauces one by one. Add 1½ teaspoon soya and red chili sause. Mix it well using a spatula. You can also use your hands if you want.

Add ¼ teaspoon red chilly powder and a pinch of salt in it.

Mix corn flour and plain wheat flour in another bowl and pour it in the main bowl.

Add the egg whites and mix it well to keep it hydrated.

Keep aside for atleast 1-2 hours.

Cut the onions and bell papers into small cubes. Take the green chillies and deseed them.
Sause Bowl :
Take an empty bowl. Add 1 teaspoon soya sause, 2 teaspoon tomato sause and 2 teaspoon red chilli sause one by one.

Add 1 teaspoon vinegar and ½ teaspoon chili powder in it.

Add around 2 teaspoon sugar for taste.

Take 2 tablespoon water and pour it in the bowl.

Mix it well using a spoon and keep aside.
How to Fry the chickens :
Preheat the oven at 175°C for 15 minutes.

To check whether it's ready or not, add a small portion of batter in the oil. If it comes out without browning, then it's ready to be used.

Now add the chicken cubes one by one.

Keep stirring with a spoon or spatula to make sure that none of them gets burned.

Deep fry both of the sides. And wait until it becomes crispy and golden brown.

Don't over fry them as it tends to be hard.

Put a paper towel on the plate and put the fried chickens on them to dry up excess oil.
Make seasonings
In high flame heat 1½ tablespoon oil for a few minutes.

Add garlic and fry it for 1-2 minutes.

Take the chopped onions, capsicums, green chilies and spring onions in it. And fry until it becomes crunchy.

Grab the sause bowl and pour the sause mixture in it. Mix it well using a spatula.

Add a pinch of salt if needed.

Now add the fried chickens in it and keep tossing to make a coat around the chickens.

Tasty chilli chicken is ready to be served. Serve it with fried rice for a better experience.
Video
Did you like this chilli chicken recipe? Let us know in the comment.