Malabar Shrimp Curry is a recipe from the coastal regions of South India, KERALA, which is aptly called "God's Own Country". Because of the abundance of coconut trees in Kerala, it finds its exclusive presence in Malabar Cuisine. Malabari Cuisine is from the Southern Part of Konkan Coast, which is quite different from the Northern Konkan cuisine namely Malvani and Gonmantak. Usage of Tamarind and Curry leaves is the signature of Malabari Cuisine. This recipe has a burst of flavor with the tanginess of tamarind, great flavors of curry leaves, and the sweet taste of coconut milk.
Serve Malabar Prawn Curry with hot steamed rice and any raita of your choice for a delicious meal.
How to make Malabar Shrimp Curry?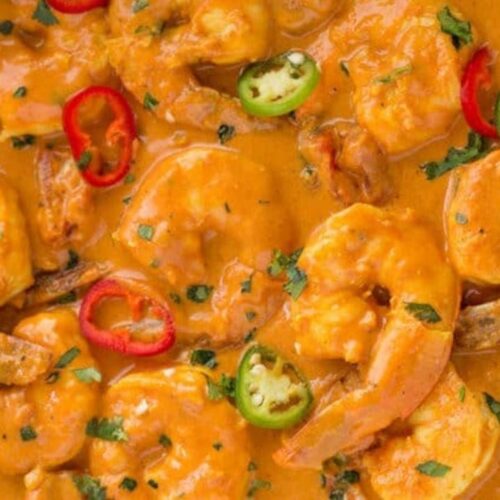 Spicy Malabar Shrimp Curry
Learn how to make a quick and easy spicy shrimp masala that's perfect to serve with rice or with warm naan. It's an Indian inspired recipe that's sure to please!
Ingredients
2

tbsp

Peanut Oil

½

pc

Onion

2

cloves

garlic

1

tbsp

ginger

ground

1

tbsp

cumin

ground

1.5

tbsp

turmeric

1

tbsp

paprika

½

tbsp

red chili 

powder

500

gram

tomatoes

chopped

500

gram

coconut oil

1

tbsp

salt

500

gram

cooked and peeled shrimp

2

tbsp

chopped fresh cilantro
Instructions
Heat the oil in a large skillet over medium heat; cook the onion in the hot oil until translucent, about 5 minutes. Remove the skillet from the heat and allow it to cool slightly, about 2 minutes. Add the garlic, ginger, cumin, turmeric, paprika, and ground chile (see Note) to the onion and stir over low heat. Pour the tomatoes and coconut milk into the skillet; season with salt.

Cook the mixture at a simmer, stirring occasionally, about 10 minutes. Stir the shrimp, fresh cilantro, and dried cilantro into the sauce mixture; cook another 1 minute before serving.
Video
Notes
Use Indian-style chile powder or ground red chiles for this recipe, not the Mexican spice blend.